Catering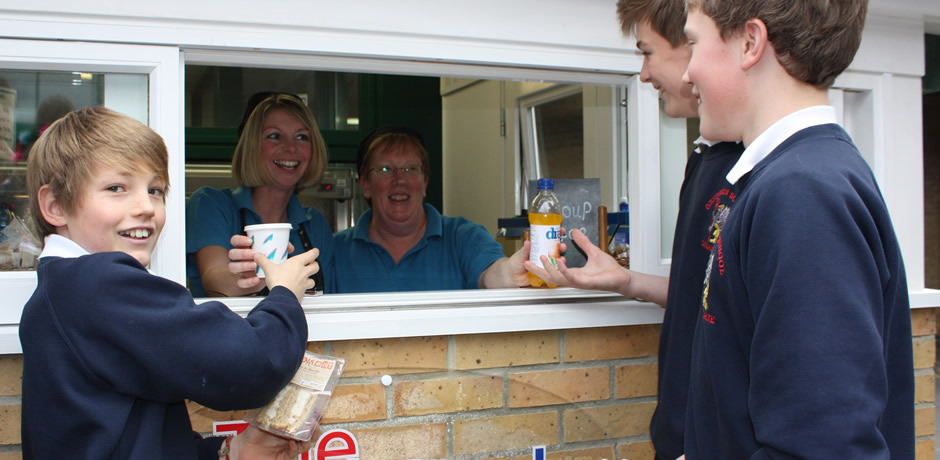 Students can grab breakfast before school starts with the café being open from 8.20am. We are then open for lunch offering a selection of hot and cold choices using fresh, high quality and locally sourced ingredients, cooked on site every day. Choices include a hot main meal, vegetarian main meal,  jacket potatoes with toppings, pasta bar, homemade soup in the colder months, hot pudding, homemade cakes & biscuits. A huge selection of 'grab and go' items including freshly prepared baguettes, paninis, wraps and burgers to name a few. Plus we have a salad bar bursting with healthy homemade salads where students can help themselves to their favourites. We have a large modern café with seating for 185 and a Pod in the quad offering a range of snacks and food to go for main school.
The Sixth Form common room offers a vibrant café culture with a selection of student-friendly snacks and beverages including barista coffee.
If you have any food allergies or food intolerances please talk to our catering manager who will be able to advise you on food and drink options that suit your needs.
Students use their Wisepay accounts linked to their thumbprints to pay for food, which speeds up the queues and no need to bring cash into school. You can make payments at a time convenient to you, even when the school is closed. It's safe and secure to use; you have your own private account and balances can be viewed at any time, showing what has been purchased by your child.
There is a WisePay App that can be used on your mobile phone to make logging in to your child's account easier.
Sample-Menu-1.pdf
Download

Sample-Menu-2.pdf
Download

Sample-Menu-3.pdf
Download